4 State of The Art Shower Sets That Will make your Showers Euphoric

Have you ever considered the effect on your bathrooms appearance if you got a new shower faucet? Many homeowners make uninformed decisions on which shower sets would be best and get either mainstream or cheap. The reality is that the right shower faucet would not only bring the look of your bathroom together but it would enhance your shower experience exponentially.
Modern shower faucets offer way more than just mixing your hot and cold water. You get a set of different flow settings that can make an average shower much more enjoyable. If you plan to remodel your bathroom, do not be lazy in choosing a good shower set. Not only will it improve your showers, but most newer sets are easier to install too!
Blue Ocean 52" Aluminum Shower Panel
This shower panel fits easily on any wall using wall mounts. The complete panel measures 52 x 10 x 3.5 inches and perfectly fits flat shower walls. It has eight nozzles that can shower you with high-pressure water so that you can hit all the perfect spots. There are two controllers on the unit. One controls water temperature, and the other adjusts water flow functions.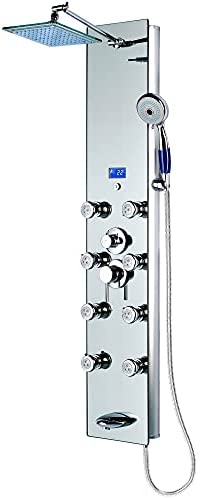 SR SUN RISE Mixer Shower Combo
If you think a full shower panel would be too much for your bathroom, then you can try the SR SUN RISE Mixer Shower Combo. This comes with a handheld shower want and two dedicated controls that adjust the temperature and flow of the water. The set comes with a solid metal shower arm and a shower wand holder, giving it all a very decent and compact look.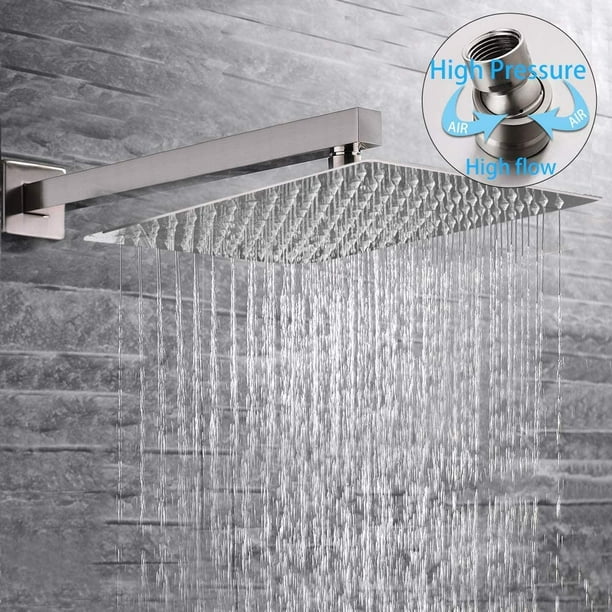 Sumerain Shower Faucet Brushed Nickel
If you want a complete shower set that has everything you need to install it and is straightforward to install, you can try the Sumerian Shower Faucet Set. It includes a showerhead, shower arm, handle, and a rough-in valve. The whole set is coated in brushed nickel, and has a matte finish. It is said to last for up to 600,000 uses.
STAR BATH Shower System
This is a very high-flow shower and is perfect for a quick and refreshing shower after a long and tiring day at work. It has a shower wand that you can rotate at 360 degrees for optimum shower positioning, and the brushed nickel finish makes it resistant to corrosion, scratches, and tarnishing. This durable shower would look great even after years of use!

We took our time to handpick some of the best shower faucet sets that you can get today. We hope we make your showers just a bit better with these recommendations. Did any design above appeal to you? Be sure to tell us about it in the comments below.